快速精准产线测试!3-5秒完成!
苹果实验室认证设备

测试E-Marker, 导通, DCR, 眼图等
支持USDTypeC 3.1 Gen2, C-Lightning, HDMI 2.1, DisplayPort 1.4 Cable
Test coverage 全面精确测试范围

Ø
Signal Integrity
高频信号眼图测试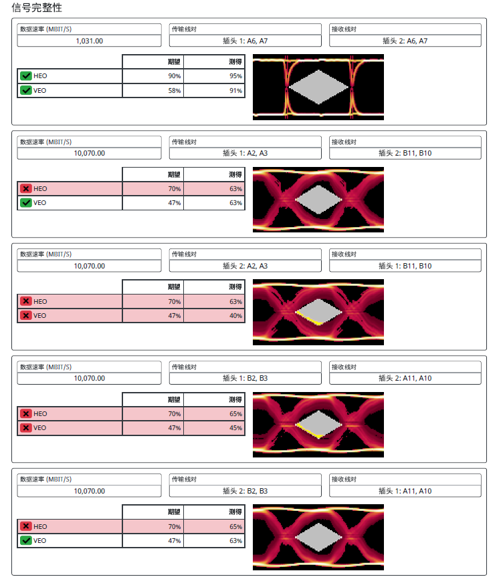 支持线类型:
USB C – C

USB A – C

USB C - µB

USB A - µB

A - Lightning

(苹果实验室采用)

C – Lightning

(苹果实验室采用)

C - Standard B

A - Standard B

HDMI – HDMI

(

HDMI2.1

)

DP – DP

(

DP1.4

)

将支持更多Active Cable

Custom cable modules available

特别订制线,速度最高去到

12.8Gbps/

频道
Data and results handling 测试结果展示
Localized user interface

多国语言界面,如中文,英文,日文,韩文等

Detailed results available via web Browser

透过浏览器读取测试结果,无需装任何软件

LCD for results w/o PC requirements

设备带触摸屏,无需电脑

Flexibility for custom profiles

完全开放编辑测试校本

Dynamic presentation of continuity results

更直观说明测试项目及结果

Persistent storage of test results

永久存储最近

一百万

测试结果

Control laptop not required

无需电脑控制

REST API

提供

API

,容许测试结果送至内部系统

User defined tags

容许标签测试报告



想了解更详细资料或演示吗? 请随时联系+86-14714409269

The Total Phase Advanced Cable Tester v2 is the quickest and most convenient way to comprehensively test USB, MFi Lightning, and video cables. It provides:
Short testing - Dynamic visualization of test results
Open testing - Dynamic visualization of test results
Continuity testing - Dynamic visualization of test results
DC resistance measurement for most wires, with milliohm precision on ground and power wires, ohm resolution on most other wires, continuity check only on high-speed data lines
Signal integrity testing of data lines to 12.8 Gbps per channel
E-Marker verification
Lightning plug bring up/function (Apple MFi Lightning Cables)*
Over-voltage protection (Apple MFi Lightning Cables)*
Voltage recovery testing (Apple MFi Lightning Cables)*
Quiescent current consumption (Apple MFi Lightning Cables)*
* Apple MFi membership required to run these tests
Combining blazing fast performance with a low cost per test and a rugged design, the Advanced Cable Tester v2 enables rapid spot-checking of cables, easy-to-understand reports, with 100% test coverage for lab and production environments at a fraction of the price, time, and labor versus other solutions. Whether your application is 100% quality control in a factory or statistical process control in a laboratory, the Advanced Cable Tester v2 will provide high precision and accuracy with thorough test coverage, without expensive scopes, custom fixtures, or highly trained personnel, saving hundreds of thousands of dollars.
Continuity testing checks all pins for opens, shorts, and fundamentally correct wiring preventing dangerous situations like shorts of VBUS to data signals, VBUS/GND reversal, etc.
DC Resistance ("DCR") testing confirms that each power pin (VBUS and GND) is capable of carrying the required current to meet the applicable specification. For Type-C cables, each power pin is individually measured, then the cable as a whole is tested. Pass/fail criteria ensure that the cable will meet the specification requirements, such as Type-C IR Drop. If present, Type-C SBU and CC lines are also tested for DCR.
E-Marker testing reads the data from any present E-Marker, then validates the advertised data and power capabilities against the actual measured parameters of the cable. Additionally, fields such as Vendor ID, Product ID, Test ID, firmware and hardware versions can be set by the operator, for easy pass/fail determination of cables through a QA process.
Lightning testing ensures proper operation of the Lightning plug, including proper Lighting plug power-up, over-voltage, recovery, and quiescent current testing per the Apple MFi specification.
A REST API is available for integration of the Advanced Cable Tester v2 into a larger test infrastructure. This integration can be very high-level: taking just a real-time pass/fail indication; or much more integrated: retrieving all details for custom processing, analysis, logging, etc.
Passing eye diagram, 10Gbps USB Type C-C cable Failing eye diagram, 10Gbps USB Type C-C Cable
The Advanced Cable Tester supports testing a large variety of cables via a system of easily interchangeable modules. Each module is rated for 10,000 tests, guaranteeing cost effective and accurate cable test results.
USB Type-C to USB Type-C (Type-C 1.3, USB 3.2 and earlier specifications). Full-Featured and USB 2.0 Type-C cables are supported
USB Type-C to USB Standard-A (USB 3.2 and earlier version specifications)
USB Type-C to USB Micro-B (USB 3.2 and earlier version specifications)
USB Type C to USB Standard-B (USB 3.2 and earlier version specifications)
USB Standard-A to USB Micro-B (USB 3.2 and earlier version specifications)
USB Standard-A to USB Standard-B (USB 3.2 and earlier version specifications)

MFi Lightning (USB 2.0) to USB Standard-A
MFi Lightning (USB 2.0) to USB Type-C

HDMI Type A to HDMI Type A (HDMI 2.1 and earlier version specifications)
DisplayPort to DisplayPort (DisplayPort 1.4 and early version specifications)
Key Features:
Test Coverage
Continuity/Shorts/Opens testing
DCR measurement for all wires except high-speed data lines
DCR measurement for all power and ground pins for USB Type-C
USB Type-C E-Marker verification for USB Type-C full-featured cables
Lightning plug power-up/function (Apple MFi Lightning Cables)*
Over-voltage protection (Apple MFi Lightning Cables)*
Voltage recovery testing (Apple MFi Lightning Cables)*
Quiescent current consumption (Apple MFi Lightning Cables)*
Signal integrity testing of data lines at up to 12.8 Gbps per channel
* Apple MFi membership required to run these tests
Solution Features
Compatible with most USB, Apple Lightning, and video cables
Fast testing optimized for production requirements
Real-time results
Results displayed on color screen for stand-alone operation — no PC required
Detailed measurements and eye diagrams available via web interface
Ideal for laboratory and manufacturing applications
Local storage of up to 1,000,000 test results
Personalizable test reports
Advanced Cable Tester API
REST API accessible via USB or Ethernet port
Full control of all test profile parameters
Real-time pass/fail status
Retrieve detailed test reports, logs, and statistics
Upgrade for programming of E-Markers (future release)
Quality
RoHS
One year warranty
Manufacturing: ISO 9001, ISO 13485, AS9100C, ITAR